Jump Start Your Book Publicity with our PR Starter Kit customized for YOUR projects.
SPECIAL OFFER FOR WEBINAR ATTENDEES:       Regular Fee $675      Webinar Attendees: $575
*IBPA & SPAWN MEMBERS: Additional $50 off = $525.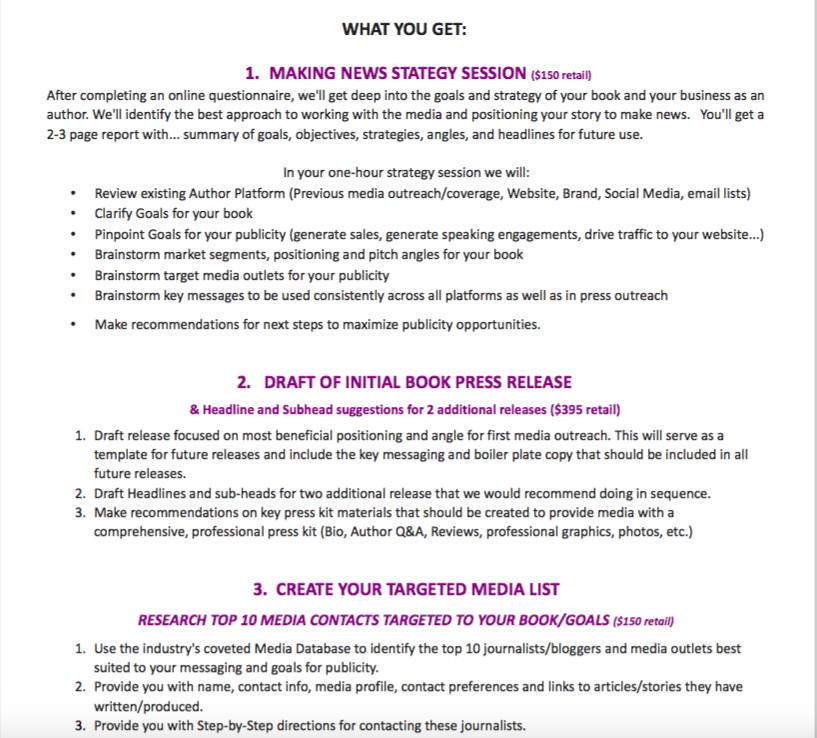 "MAKING NEWS" STRATEGY SESSION, PLATFORM ASSESSMENT & REPORT ($375 retail)                            After completing an online questionnaire, we'll dig deeper into the goals and strategy of your book and your business as an author or publisher. We'll identify the best approach to working with the media and positioning your story to make news. And, we'll evaluate your current platform (website, social media, email lists, influencer connections) and make suggestions for improvements to maximize your PR efforts. You'll get a 2-3 page report with summary of goals, objectives, strategies, angles, and headlines for future use.
In your one-hour * Strategy Session we will: 
Review

existing Author Platform (Previous media outreach/coverage, Website, Brand, Social Media, email lists)

Clarify Goals for your book and your business.

Pinpoint Goals for your publicity (generate sales, generate speaking engagements, drive traffic to your website.)

Brainstorm market segments, positioning and pitch angles for your book

Brainstorm key messages to be used consistently across all platforms as well as in press outreach

Make

recommendations on Author Platform enhancement necessary for effectiveness. (Website, overall online visibility, Social Media platforms and engagement, book positioning, graphics, branding and messaging)

Make recommendations for next steps to maximize publicity opportunities

Brainstorm target media outlets for your publicity
* May include – and usually does – additional phone consults and emails for clarification and fine tuning messaging, etc.
DRAFT OF INITIAL BOOK/EVENT/PROJECT PRESS RELEASE
w/ Headline and Subhead suggestions for 2 additional releases ($425 retail)
Draft news release focused on most beneficial positioning and angle for first media outreach based on the goals identified in the Strategy Session. This release will serve as a template for future releases and include the key messaging and boiler plate copy that should be included in all future releases. For authors positioning themselves as thought-leaders and experts in their niche, the "release" may take the form of an Expert Profile with interview topics/headlines and graphics. 
Make recommendations on key press kit materials that should be created to provide media with a comprehensive, professional press kit. We'll recommend some or all of the following depending on your individual PR Strategies: Bio, Author Q&A, Reviews, Sales Sheet, Interview One-Sheet, professional graphics, photos, feature releases, authored articles (by you). You'll receive samples of each so that you can create them for your project. 
CREATE YOUR TARGETED MEDIA LIST
RESEARCH TOP MEDIA CONTACTS TARGETED TO YOUR BOOK/GOALS  ($200 Retail )
Use the industry's coveted Media Database to identify the top 10- 15 journalists, bloggers and media outlets best suited to your messaging and goals for your immediate publicity needs. You'll also receive a detailed "How to Contact the Media" tip sheet and sample pitch emails to use when pitching directly to journalists. 
To request more information or to reserve your PR Starter Kit today, send an email to leann@buildbuzzlaunch.com subj: Starter Kit